HOME OF BOUND BROOK CRUSADERS BASKETBALL

Skyland Conference Champs
4-Straight Seasons!
FOLLOW BOUND BROOK BASKETBALL ON TWITTER:
http://twitter.com/#!/CoachMelesurgo
1st Round of Summer League Playoffs this Monday Night at 6:45 vs. the winner of Bernards/Del Val
---
Click on the Holiday Tournament link to check out the Crusader Classic Schedule for this winter!
---
ST. ANTHONY'S COMING TO BOUND BROOK FEB. 9TH AT 7PM!!!!
---
*** CLICK ON SUMMER LEAGUE LINK FOR OUR SUMMER LEAGUE SCHEDULE******
****CLICK ON PLAYERS SCHEDULE LINK FOR SUMMER PRACTICE SCHEDULE*****
---
2014 Courier News All-Area Boys Basketball Team
Honorable Mention - Shane Stevens, Anthony Perez, Fred Deensie
All Sophomore Team: Anthony Perez
Star Ledger Somerset County
3rd Team- Shane Stevens
Honorable Mention -Anthony Perez
Skyland Conference Boys Basketball
Valley Division All Conference
1st Team -Shane Stevens, Anthony Perez
Honorable Mention - Kevin Pacheco
Congratulations to Shane Stevens-Signing a Scholarship with St.Katherine's in San Diego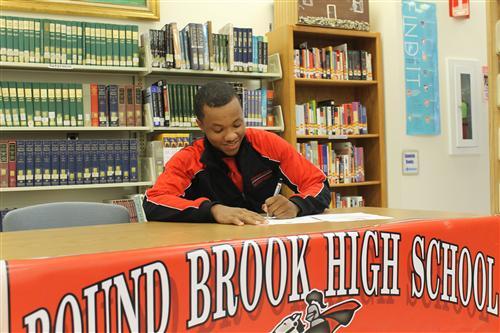 2014-15 Scheduling Updates-
Conference games- Somerville (2), Del Val (2), Warren Hills (2), Voohrees (2), Bernards (2)
(dates and times not yet available)
Out of Conference: vs. St. Anthony's, at Immaculata, vs. H.Central, vs. Middlesex, at Vo-Tech, at South Amboy, at TChristian, vs. Franklin, vs. Watchung (Coaches vs. Cancer)
2014 Crusader Classic Dates
Saturday Dec 27th and Monday Dec. 29th
(MATCHUPS TO BE ANNOUNCED SOON)
Crusaders Stun South Hunterdon
Bound Brook 52, South Hunterdon 51: Facing an 11-point second-half deficit without its leading scorer, the Bound Brook High School boys basketball team rallied to stun visiting South Hunterdon 52-51 Tuesday, forcing a three-way share of the Skyland Conference's Valley Division crown.
Fred Deensie posted 16 points and four assists and Wole Osuntuyi scored 15 for Bound Brook (16-9), which is playing without Shane Stevens, who leads Somerset County in scoring but has been suspended indefinitely for disciplinary reasons.
South Hunterdon (18-6) would have won the title outright with a win. Instead, the Eagles split the prize with the Crusaders and North Plainfield. Clay Hope paced South Hunterdon with 15 points.
Junior guard Danny Leimbach sparked Bound Brook's rally with 10 second-half points, hitting a 3-pointer to tie the score with 2:30 left in the fourth quarter, then notching the go-ahead basket on the next possession.
"I'm really proud of the guys, rallying around each other," Bound Brook coach Anthony Melesurgo said. "There is no star right now, but everyone is stepping up their roles and it's been fun to coach."
Bound Brook won the previous three division titles outright but lost all of last year's team to graduation.
"I told our guys, of the four this is the most rewarding," Melesurgo said. "This isn't the most talented team we've had. However, it's the most hard-working. They give max effort to everything they do."
Congratulations to Shane Stevens who gave a verbal committ to St. Katherine's of San Diego California. The school is currently Div. 2, but will be Div.1 in two years. Some of the games they have scheduled: Notre Dame, Utah, Gonzaga, Hawaii, BYU. Awesome experience and opportunity for Shane. Shane is the 4th player in the last two years to receive a basketball scholarship.
Tuesday's Game at North Plainfield will be at 3:45pm
Article from Star Ledger:
Bound Brook Upsets Watchung Hills:
Shane Stevens knew he had made a mistake early in the fourth quarter yesterday. He also knew he had to redeem himself.
The Bound Brook guard picked up a technical foul, which led to another technical foul being called on his head coach Anthony Melesurgo for defending him. The result was four straight points and a momentum swing for Watchung Hills. But Stevens collected himself and scored 13 of his game-high 24 points in the final period as Bound Brook topped Watchung Hills, 65-58, in the second round of the Somerset County Tournament in Warren.
"I made a mistake, I shouldn't have said anything," Stevens said. "I saw how disappointed my coach was. That fed me. That gave me the energy to win this game."
Tenth-seeded Bound Brook advances to the quarterfinals to face second-seeded Montgomery, No. 20 in The Star-Ledger Top 20, next Saturday.
"I'm proud of our guys. That was a big swing in momentum. We responded with a couple big shots," Melesurgo said. "We executed really well down the stretch, played solid defense the entire game and I thought we did a really good job."
The Group 1 squad got off to a fast start and led by as much as 14 points in the second half before seven-seeded Watchung Hills started to find an offensive rhythm in the third quarter, with Mark Ball leading the way. Bound Brook's lead was down to six points when Stevens was called for a technical foul for complaining to the referee about a personal foul. Melesurgo then received a technical foul of his own to set up an unconventional four-point play for Ball.
Ball made four free throws to cut the Bound Brook lead to two points. Ball then hit two more free throws three possessions later to tie the game with less than six minutes remaining.
The game's momentum was up for grabs, with Watchung Hills suddenly threatening to pull out a victory in the fourth quarter. While some players may have been shaken by the incident, Stevens rebounded with his one of his best quarters of the season. The Immaculata transfer hit a 3-pointer from well beyond the arc midway through the period to give Bound Brook the lead for good.
"I'll take any open shot," Stevens said. "Any open shot, any time. I'm glad it went in, and I'm glad we got the win."
Anthony Perez and Fred Deensie also had big baskets to keep Watchung Hills at bay in the final minutes. Perez finished with 12 points and 13 rebounds while Deensie had nine points, four rebounds and four assists. Ball finished with 20 points to lead Watchung Hills and Anthony Rocchietti had 18 points.
Stevens said that this was the type of game that Bound Brook would have lost earlier in the season. He apologized to his teammates after the technical fouls, and knew that that the squad could overcome the situation.
"At that time (of the technical foul)... I didn't want my coach to take the blame for that," Stevens said. "I didn't want for him to feel like he could have done something different. So at the end of the game, I knew with my leadership I could take over the game and help my coach get this victory."
1st Round Somerset County Tourney
Bound Brook 87, Manville 36
Shane Stevens scored 24 points and dished out 15 assists, and Wole Osuntuyi added 22 points, 14 rebounds and 11 blocks, as 10th-seeded Bound Brook advanced to the second round. The Crusaders (10-6) will face seventh-seeded Watchung Hills next Saturday. Rameek Carmen scored 12 points to pace 15th-seeded Manville (4-11)
Crusaders Upset 12-2 South Hunterdon 54-51
Story From Courier News:
The Bound Brook-South Hunterdon rivalry is one of the best kept secrets in Skyland Conference boys basketball, and all the reasons were on display Thursday night.
A raucous crowd, some heated skirmishes for loose balls, a fourth-quarter rally and, finally, a last-possession defensive stand highlighted Bound Brook's 54-51 victory.
The Crusaders (9-6) have some work to do to defend their Skyland Conference, Valley Division crown, and this was a big first step. South Hunterdon (12-3) was unbeaten in league play, with its only in-state loss coming to Middlesex.
Next year Bound Brook is moving up a division when the Skyland realigns, but the Eagles will remain on their schedule.
"The last five or six years it's been the best two teams in the Skyland (Valley). We kind of started rebuilding both programs at the same time," Bound Brook coach Anthony Melesurgo said. "We're still going to play them one game a year because we like this atmosphere."
Senior guard Shane Stevens paced Bound Brook with 18 points and five steals, but the difference-maker was center Wole Osuntuyi, who controlled the paint with 15 points, 10 rebounds and five blocks.
"We've been telling Wole the whole year, when he's active and playing within himself, he can be a dominant big man," Melesurgo said. "I thought he was the major difference."
After Bound Brook trailed 22-18 at halftime, Osuntuyi turned the tide with two put-back buckets at the start of the third quarter. He tallied 10 points, five rebounds and two blocks in that period alone.
"I feel like it's the kind of game I should be playing all the time," Osuntuyi said.
Stevens, who was stymied by South Hunterdon's zone in the first half, scored six points in a 10-2 run that put the Crusaders up 38-35 heading into the fourth quarter. The margin swelled to nine early in the fourth after a Stevens steal-turned-bucket made it 44-35.
But, like any good rivalry, this was far from over. South Hunterdon guard Jake Whitaker (13 points) sank two driving layups to ignite an 11-2 run, and South Hunterdon took the lead on a 3-point play by Brennan Carey with 2:38 remaining.
Stevens responded with a 3-point play of his own, and when South Hunterdon missed the front end of two straight one-and-ones, Bound Brook opened up a five-point lead with just over a minute left.
The Eagles, however, kept coming. Devon Troutman got fouled and made two freebies. Then Whitaker stole a pass, got fouled and made both shots to cut the deficit to one with 48 ticks left. But another missed free throw with 30 seconds remaining doomed the comeback.
"That's been the story of our year," South Hunterdon coach Jason Miller said. "Our record is nice and all that, but there have been a lot of games where we snuck away with a win but we missed a ton of free throws. That continues to haunt us."
One final South possession, down three, ended with a missed 3-pointer as time expired. Bound Brook defended the play to perfection.
"Our backs were up against the wall tonight," Ostunuyi said. "We had to come out and get this win."
Bound Brook was coming off a 78-19 loss to national power St. Anthony. Up next is the Somerset County Tournament opener against Manville at 10:30 a.m. Saturday.
"We said all along that this was the biggest week of our year," Melesurgo said. "We went up against the best school our team has ever played and then we playe dour biggest regular-season game. We were amped up and the intensity we played with was our best of the year."
They'll get a chance to do it again when South Hunterdon visits Bound Brook Feb. 25. The Valley title could be on the line. And they could well meet in the Central Group I bracket of the NJSIAA Tournament come March.
"They've certainly owned the rivalry but it's big for us; we like playing them," Miller said. "We get up for it every time we get the opportunity to play them."
Bound Brook at St. Anthony's This Monday!
Preview of our Game From Star Ledger Today
After a hot start to the season, Bound Brook has hit a bit of a rough patch with three losses in four games. Things won't get any easier for the Group 1 squad. It's next opponent? No. 5 St. Anthony, in Jersey City no less.
"I'm not naive, I know Monday is going to be ridiculously tough," Bound Brook coach Anthony Melesurgo said. "I just want to start playing good basketball."
Bound Brook was 7-2 before the recent skid, an the losses were close ones to Spotswood and Somerville. Shane Stevens has averaged 25.5 points, 5.5 rebounds, 4.3 assists and 3.5 assists per game while Fred Deensie and Anthony Perez are both stepping up. But Melesurgo is still looking for a more balanced attack.
"In the long run, the games that we've won we had a little more balance," Melesurgo said. "It's hard to win against good teams with just one guy scoring a lot of points. You've got to get better balance."
Bound Brook is a much different team than the squad that went 26-3 last year and made it to the Central Jersey, Group 1 finals.
"Let's face it, a team that lost six great players last year, has to go through this. I have to get some patience, too, because I'm as competitive as anyone."
Melesurgo tweeted about the match-up with St. Anthony in the offseason, clearly excited for the opportunity. He says its speaks to what his program has built in recent years.
"We're approaching it just as, we feel privileged that St. Anthony thinks high enough to agree to play a game with us," Melesurgo said. "We know this is more for not just for this year, but the last four or five years and how good our program is. I just told our guys, it's a great opportunity to go see a really good basketball team and compete at a high level and give it our best shot."
Whatever happens in Jersey City, Bound Brook knows it has to keep moving in the right direction. There are other important games on the horizon, including tilts with South Hunterdon, Bernards and Rutgers Prep.
"It's a real important week for us to get back on the right track," Melesurgo said. "I know Monday night will be difficult. But we just need to start playing good basketball."
Bound Brook 65, Pingry 52
:
Senior guard Shane Stevens broke the school record for most points in a game with 42. Sophomore Anthony Perez added 10 points, four rebounds, three assists and three steals as the Crusaders improved to 7-2.
Great Win Over Raritan
Here are the articles:
Star Ledger Article :
Even as Bound Brook guard Shane Stevens filled up box score after box score early in the season, coach Anthony Melesurgo also praised the progress his supporting cast had made. He knew how important the other role players would be to victories later in the year.
While Stevens played well against Raritan yesterday, it was Fred Deensie who led a key third-quarter charge and scored a game-high 19 points to help seal a 56-48 victory at the Coaches vs. Cancer Classic in Montgomery.
Deensie scored 10 points in the third quarter to help Bound Brook fuel a 12-0 run and turn a four-point deficit into a 46-36 advantage that it never relinquished. The senior transfer from Franklin got most of his baskets by driving to the rim and finishing, helping to crack a Raritan zone defense that had slowed the Bound Brook attack.
"I just had to come out with more intensity than in the first half," Deensie said. "The first half, I came out a little nervous. I had to pick it up a little and help my team out."
Raritan enjoyed a run of its own early in the fourth quarter, scoring eight straight points to make it a two-point game. Bound Brook, which has lost two games this season by a combined five points, countered with a 9-4 run of its own to close out the victory.
"We just kept attacking, kept doing what we had to do to get a win," Deensie said. "We already knew we had to keep attacking or they would come back. We can't lose anymore big games."
Stevens entered the contest averaging 26.6 points per game but struggled at times with his shot. Still, the Immaculata transfer got to the foul line consistently, sinking seven of eight shots from the free throw line and finished with 17 points.
"We couldn't get down. That's what we did against Spotswood and against Somerville," Stevens said. "We have to fight through adversity. In this game, we did that. Coach told us to keep our heads up. We knew this was a must-win game for us."
Dylan Dewysockie finished with 15 points for Raritan, while Joe Eckel had 12 points.
Melesurgo was pleased to see his team hang on for the victory, and especially happy with Deensie's performance. With his dribble-drive ability combining with Stevens' shooting range has Melesurgo thinking his team has the potential to win more games like this.
"In these last few games, Freddie is getting a little more experience and more confidence," Melesurgo said. "He was so good down the stretch attacking their zone. Freddie attacking the rim, getting to the basket. When you can attack the zone and get layups rather than just shooting threes, it helps the team."
Here is the Courier News Article:
MONTGOMERY — For the season's first three weeks, Bound Brook High School boys basketball was the Shane Stevens show. On Saturday, the rest of the band joined in.
With Shore Conference foe Raritan tilting its zone to slow the explosive senior, other Crusaders responded to deliver a 56-48 win during the Coaches vs. Cancer showcase at Montgomery. Senior Fred Deensie tallied 19 points, sophomore Anthony Perez chipped in nine and junior Kevin Pacheco added eight as Bound Brook improved to 6-2. Stevens, who came in averaging 26 points per game, finished with 17 and made some key plays late to seal the deal.
"In the beginning of the season I thought Shane was a little more advanced than the rest of the guys, but once these other guys get game experience, varsity experience, in the long term that makes us much better," head coach Anthony Melesurgo said. "Shane is a good player, but when other guys start stepping up he gets better looks too."
The Crusaders needed time to get on the same page because Stevens transferred in from Immaculata and Deensie transferred from Franklin, where he played JV last winter. In Bound Brook's decisive third-quarter run, it was Deensie who did most of the damage.
"The defense was favoring my side, running at me all game," Stevens said. "We needed an extra player to step up and he did a tremendous job in the third quarter. It was a tremendous help and that's' why we got the win."
Some key late-game stops helped. With Bound Brook protecting a three-point lead and two minutes left in the fourth quarter, Stevens hit a driving layup, then forced a travel. Then Deensie sank a layup off a nice pass from Pacheco and drew a charge on the ensuing defensive possession. Game over.
"In our Somerville and Spotswood games (two one-possession losses), we needed a stop and layup and we could easily be 8-0," Melesurgo said. "We really stressed making those stops down the stretch. This is a good game to build off."
Pacheco, Perez and Stevens
Lead Brook over Belvidere
Bound Brook defeated Belvidere 88-38 on Thursday night in Bound Brook. The game was probably the best the Crusaders have looked thus far this season. Shane Stevens had a quadruple double, Kevin Pacheco had 19 points (5-7 from 3's) and Anthony Perez and Freddie Deensie scored in double digits. Join the Brook on Saturday for there game at Montgomery HS at 2pm vs. Raritan High School in the Coaches vs. Cancer Showcase.
Congrats to Shane Stevens
Courier News Player of the Week
See Story Below:


They need to order more pencils for Bound Brook's statistician because Shane Stevens is putting up such ridiculous numbers. The senior guard is averaging 30.1 points, 6.4 rebounds, 4.3 assists and 4.4 steals per game for the 3-2 Crusaders. The Immaculata transfer netted 25 in a two-point loss to Somerville Saturday.
"He's doing exactly what we need at this point," Bound Brook coach Anthony Melesurgo said. "We have no one on the team with varsity experience other than Shane. I would love to be more balanced as a coach, but I'm giving him more of an opportunity scoring-wise because the others are still finding themselves."
With his quickness and ability to finish at the rim, Stevens is a great fit in Bound Brook's up-tempo system. That became obvious when he chalked up 34 of Bound Brook's 58 points in a 3-point loss to Spotswood. With big numbers, though, comes big attention on the opposition's scouting report.
"Somerville face-guarded me the whole fourth quarter. Spotswood faced me too," Stevens said. "My dad was telling me, I just can't settle for being face-guarded. I have to find a way to beat it."
The best way, of course, would be for complementary scorers to develop. Sophomore guard Anthony Perez has shown some flashes, although losing startin"It's a young team," Stevens said. "I like being the leader."
Huge Scheduling
NEWS!
BOUND BROOK VS. ST. ANTHONY'S
The Crusader Basketball program has agreed to a two-year deal to play nationally ranked St. Anthony's High School. Led by Hall of Fame Coach Bob Hurley and his numerous Division 1 players, the Crusaders will play at St. Anthony's High School on Jan. 27th, 2014 at 7pm and will have the Friars coming to Bound Brook the following season. This is perhaps the biggest opponent and highest ranked team the Crusaders have ever faced. It is a tribute to all of the former players who have helped pave the way for our program to garner the respect it has to be mentioned to play the caliber of team that St. Anthony's is. Our program, our school, our town, and our families are very excited!
2013-14 Team Record
Conference Champions 4 Straight Yrs.
16-11 Overall 11- 3 Conference
---
Crusader Basketball News
- Season Opener Dec. 20th
- St. Anthony's at BB Feb. 9th
- Crusader Classic Dates Dec. 27th/29th
---
BB Basketball Restoration
The Last 10 years:
Snapped State Worst 34 Game Losing Streak
2007 Skyland Champs
2008 Skyland Champs
2011 Skyland Champs
2012 Skyland Champs
2013 Skyland Champs
2014 Skyland Champs
10 Consecutive Winning Seasons
2013 So County Final 4 Appearance
10 Consecutive State Tourney Appearances
2010 Star Ledger Ranked #7 in Somerset Cty
Top 10 Rankings in NJ (Group 1)('08-6th, '09-9th, '11-2nd)
Most Wins Since 1990 ('08, '10, '12, '13)
All-time Leader Scorer (Hawkins, 1320)
10 College Basketball Players
4 1,000 Point Scorers
2010 Crusader Classic Champs!
2012 Crusader Classic Champs!
School Record 18 Straight Wins (2011)
School Record 21 Straight wins (2013)
Ranked in State top 20 1st Time Ever
1st Time School History State #1 Seed (2011)
Undefeated in League play 12-0 (10-11)
Undefeated in League Play 12-0 (11-12)
Undefeated in League Play 12-0 (12-13)
School Record 24 Wins (2011)
School Record 26 Wins (2013)
2 ALL-STATE SELECTIONS (2011)
Advanced to Semi-Finals (first time since 1979)
Advanced to CJ GRoup 1 2013 Finals (first time since 1979)
Beat #17 in state Bridgewater-Raritan (2012)